Not all of us love to cook, but we sure all do enjoy to party. And, a party with great food is one to be truly enjoyed and remembered.
Mint and Vanilla Cupcakes

Ingredients, cupcakes:
210g unsalted butter
400g caster sugar
4 large eggs
375g self-raising flour
250mls milk
1 tspn vanilla essence
½ vanilla pod, scraped
2 tspn fresh mint chopped
Ingredients, icing:
210g soft unsalted butter
900g icing sugar
125ml milk
1 tspn vanilla essence
½ vanilla pod, scraped
1 tspn fresh mint chopped finely
For the cupcakes, cream the butter and sugar together in the bowl of an electric mixer, until light and fluffy. Add eggs one at a time, and then the sifted flour.
As this mixes through, trickle the milk and vanilla and seeds of the scraped vanilla pod down the side of the bowl. Mix until all are well combined. Fold through the chopped mint.
Spoon the mixture into greased and paper- lined cupcake trays and bake at 185 degrees for 20-23 minutes.
When cooked, remove from pan and cool individually on cooling wire.
To make the icing, place the softened butter and icing sugar into the bowl of an electric mixer and combine until the butter is well incorporated.
Add the milk and vanilla and seeds of the vanilla pod. Increase the speed of the mixer
and beat until icing is white and light in texture.
Fold through the chopped mint before spreading the finished icing on the cooled cupcakes and serve.

Savoury Basil and Coriander Muffins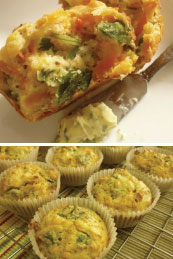 Ingredients:
400g plain (all-purpose) flour
20g sugar
6g baking powder
3g baking soda
1 tbsp chopped fresh basil leaves, crumbled
40g fresh coriander, finely chopped
80g parmesan cheese, finely grated
310g laban
60g unsalted butter, melted
large eggl Heat the oven to 185 degrees Celsius.l Using a 12-cup muffin pan, lightly spray with grease/oil and then line with paper muffin cases.
 In a large bowl, combine the sifted flour, baking powder, baking soda, with the sugar, the basil, coriander and cheese.
Toss everything together with your hands to ensure even distribution.
 Add together the laban, the melted butter and lightly whisked egg.
Add this mixture to the dry ingredients, stirring just until everything is mixed.
Deposit the mixture into the prepared muffin cups evenly. Bake at 185 degrees for 20-25 min.
Serve these warm for a snack or a light meal, with sour cream and chutney.
Chicken and Vegetable Vietnamese Rolls


Ingredients:
1 packet rice paper wrappers for spring rolls
60ml cooking oil
2 chicken breasts, boiled whole in salted water and then sliced
1 clove garlic, crushed and chopped finely
1 white onion, diced finely
1 carrot, grated finely
1?4 fresh purple cabbage, washed and shredded finely
1?2 yellow capsicum cleaned,
sliced finely
2 tbsps chopped spring onions
1?2 lettuce, washed and shredded finely
Salt and pepper
Fresh coriander
Fresh mint
1 tbsp chopped chives
100 ml sweet chilli sauce
Chop the boiled chicken breast and season lightly with salt and pepper.
Heat a saucepan with oil and sauté the chopped garlic and diced onions. Add the chicken and quickly stir fry.
Add the carrots and cabbage, capsicum and spring onions. Season the mix to taste with additional salt and pepper and toss over the heat. Remove to cool.
To roll spring rolls
Fill a large bowl with ice cold water. Unwrap the wrappers and dip them one at a time into the ice water to soften.
Lay the wrappers flat on the work bench which has been covered with plastic wrap to protect the food preparation surface.
Sprinkle some of the chopped, fresh lettuce on top of the wrapper, followed by a tablespoon of the cooked chicken filling.
Add some picked mint and coriander leaves and a sprinkling of chopped chives.
Sprinkle a little of the sweet chilli sauce over the filling components last.
Leave about four centimetres uncovered on each side. Fold uncovered sides inward and then tightly roll the wrapper up.
Repeat this for the remaining wrappers and mixture.